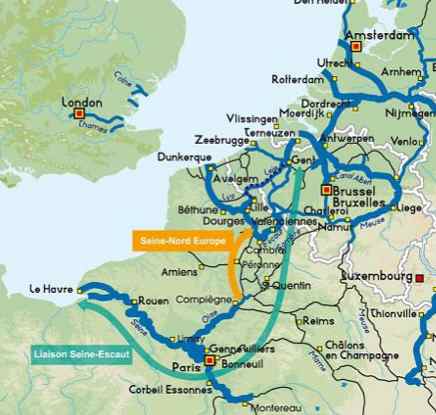 What with Netherlands in the World Cup final, the Tour de France starting in Belgium this year, and ending stage 5 in Reims, France, and after the last two posts being depressing ones on spying, children caught in the middle, assassinations and drug wars, let's talk about a piece of news that seems to have some positives going for it. In Northern Europe, plans have been announced to build a large canal connecting other working waterways in Belgium, Netherlands, and France.
This proposed canal segment (see yellow in the picture above linking existing blue waterways) will be part of the larger Seine-Nord Europe Canal and would allow shipping of goods from several Northern European ports clear into or out of Paris using, as the project developers emphasize, renewable hydropower energy rather than trucks, planes, or trains, further increasing Europe's commitment to green power. It also highlights further cooperation between neighboring countries, something we've noted as essential when it comes to water use agreements around the world.
It also is a nice "return" to the quickly passed era in America when there was a broad network of canals moving a lot of goods in New York and Pennsylvania - ie. the Erie Canal. Here's a picture of an existing segment of the Seine-Nord canal being used by people and for goods ...
Some details you probably don't need to know about this proposed canal:
106 km long from Compiègne to Aubencheul-au-Bac
8 reaches connected by 7 locks with water-saving basins
2 water storage reservoirs
3 aqueducts
4 multimodal platforms and 7 loading/unloading quays
5 boat harbours plus moorings for passenger vessels
maximum watertightness of the canal and recycling of lockages.
Not much more to say, sounds like a fine, quiet addition to Northern Europe, such a contrast to conflicts, posturing, oppression, and saber rattling that are much more easily turned into News these days. And of course to which we'll return.