Okay, most folks will now acknowledge that the hoped for "Arab Spring" has not turned out to be anything like the collapse of the Soviet Union in 1989-1991, where nations emerged from the yoke of dictators and embraced parliamentary democracy. And while there were plenty of examples in Eastern Europe where the changeover did not go well (Belarus, Russia, and the breakup of Yugoslavia in another round of Balkan fighting) or unevenly (Ukraine, Czechoslovakia), most countries have truly moved on in a positive manner.
It is hard to find any such parallel in the Arab world. Egypt is in turmoil, Yemen violent, and Libya remains fragile. Jordan, Bahrain, Kuwait, and Morocco all experienced noticeable unrest, but little substantive changes were made to governance (though in several cases, the governance is relatively benign). Iranian protests were not supported in any way by the West and the belligerent rhetoric from the Islamist leaders there continues to fly. Syria's blip of democratic protest morphed, tragically, into a grotesque civil war of attrition, and Lebanon remains frozen under the Hezbollah shadow.
Click on image for full picture
Arab nations that had a whiff of protests ranging to outright regime change ...
Now Tunisia, where the protests began, has fallen back into crisis - a very unfortunate turn of events, as this nation of 10 million had been widely seen as one in which true democracy may have had a chance. As an AP news article puts it, "Prime Minister Hamadi Jebali on Tuesday carried out his promise to resign, after his offer to solve the country's political bickering with an apolitical government of technocrats was rejected by his own Islamist Ennahda Party."
The article continues, "On Feb. 6, Chokri Belaid, a leftist Tunisian opposition politician and sharp critic of the government, was assassinated by four shots through his car window early in the morning outside his home. Those killers have yet to be caught, but people immediately suspected the government and days of unrest and rioting convulsed the country afterwards.
Click on image for full picture
A Tunisian politician, Chokri Belaid, leading the opposition to the Tunisian government was assassinated in early February. From one newspaper account, "Belaid had been critical of Tunisia's leadership, especially Ennahda, and had accused authorities of not doing enough to stop violence by ultraconservatives who have targeted theaters and art exhibits seen as out of keeping with their strict interpretation of Islam."
Belaid's death did not kick off the crisis, however. It was only the culmination of a long-brewing stalemate between the ruling coalition and the opposition against a backdrop of dashed popular expectations, rising prices, crushing unemployment and an economy that is not getting back on its feet.
After a year of governing by the "troika," an alliance of Ennahda and two secular parties, there was a wide consensus that many ministers were incompetent and the urgent problems that had sparked the revolution were not being solved."
Again, the article goes on,
"THE STAKES
Tunisia is certainly not the biggest, richest or most influential Arab nation. It does, however, have one of the best educated populations and lacks the wide gaps between rich and poor found in places like Morocco and Egypt.
While a dictator, Tunisia's first post-independence leader Habib Bourguiba invested heavily in education, producing a literate population that is predominantly middle class and is widely considered to have one of the most promising profiles for becoming a prosperous democracy."
Tunisian youngsters benefiting from a solid national educational system - is it too at risk?"

So, not much more to add at this point. Where Tunisia heads now is somewhat foggy. A Reuters article describes the near term future this way, "Tunisian leaders began the search for a new prime minister on Wednesday to try to lead the North African nation out of its gravest political crisis since an uprising that inspired a wave of Arab revolts two years ago.
Rached Ghannouchi, the powerful head of the main Islamist Ennahda party, said the group had not named anyone to replace Prime Minister Hamadi Jebali, who resigned on Tuesday, but that he expected a new government to emerge this week.
"We need a coalition government with several political parties and technocrats," Ghannouchi told reporters after talks with secular President Moncef Marzouki."
Click on image for full picture
Some of Tunisia's basic economic industry sectors. Green areas are olive growing regions, purple is for vineyards.

Last year in March, the ruling coalition (now in disarray) had scheduled new elections by this coming March 20, 2013. One assumes those are on hold for several months at the earliest in order to solve the immediate crisis.
Let's hope that those in Tunisia's political class can rise above their preferences for the good of the nation. And let's always remember there are happy situations in any country.
For example, tourists can enjoy camel rides along the Mediterranean sea ...
Mediterranean climate encourages a great variety of foods - shown here in a market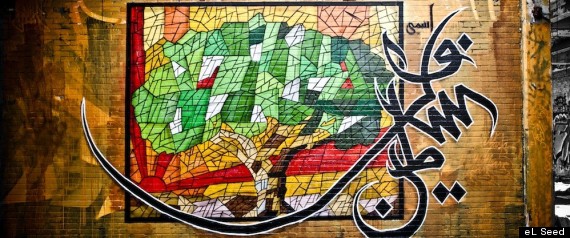 Graffiti from a 31 year old Tunisian artist, eL Seed http://www.huffingtonpost.com/2012/09/27/el-seed-tunisian-graffiti-artist_n_1918493.html