On May 29, Russian President Putin stood with two national leaders from Belarus and Kazakhstan, to announce the formation of a rival to the European Union (EU), called the Eurasian Economic Union (EaEU). The three countries would provide an alternative economic trading zone to the EU, with the intent of attracting other countries, one assumes, who are unable to become members of the EU. Both Armenia and Kyrgyzstan have indicated their interest in becoming members
Click on image for full picture
The founding members of the Eurasian Economic Union - from left, President Alexander Lukashenko of Belarus, President Nursultan Nazarbayev of Kazakhstan, and President Putin of Russia. Photo from www.uznews.net
Click on image for full picture
Here in Cyrillic script, are the founding EaEU members. The gray vacancy in the southwest of the map is Ukraine, which at one point, no doubt, was assumed to become a founding partner in this alternative to the EU. Graphic from democraticbelarus.eu
Critics consider the EaEU as a Putin effort to revive the soviet empire without the communist ideology. Ukraine, however, is missing. In fact, Ukraine was trying to move towards the EU over the past years, which ultimately led to Putin's clampdown and annexation of the Crimean peninsula, as well as fueling separatist movements throughout the east of the country.
President Putin called the official establishment of the EaEU as the "central event of the year" (apparently surpassing his annexation exercise), but even among the founding three members, there was hesitation. As one article from uznews observed, "It should be noted that the signing of the document did not go as planned by Moscow. Kazakhstan, for instance, spoke out against "Russian revenge-seeking" and decided to not include such "murky" points as "common citizenship", "foreign affairs", "passport and visa regimes", "common borders", "inter-parliamentary cooperation", and "export control".
Belarus also signed the agreement with many corrections having rejected allegations of its economic and political weakness while its leader, Alexander Lukashenka, underscored more than once that his country is entering the union as an equal partner and will not tolerate any infringements on its sovereignty."
Click on image for full picture
The new EaEU is most likely the latest attempt to solidify the influence of Russia with its neighbors. After the collapse of the Soviet Union in 1990, there was much fanfare over the Commonwealth of Independent States (CIS) which, who knows, perhaps was trying, at least with the name, to imitate the British Commonwealth. Even then, the three Baltic states had quickly and emphatically moved away from CIS consideration. Graphic from www.canros.com
Other Putin moves:
Defiant of Western sanctions for his land grab on the Crimean Peninsula, Russian President Putin also trumpeted a long term energy deal with China, selling up to $400 billion of oil and gas over 30 years. This time Putin called the deal, a "watershed event." The agreement includes building new pipelines and terminals heading away from Europe, where most of Russia's oil and gas exports now flow. $400 billion sounds like a lot, but with Putin plowing $50 billion into the Sochi winter Olympics alone, it can be squandered ...
Click on image for full picture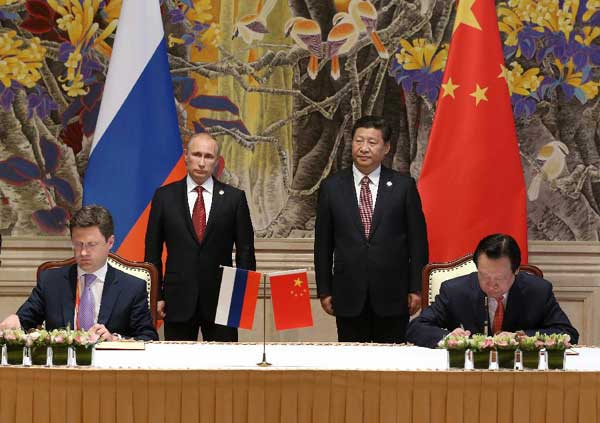 Russian President Putin and Chinese President Xi Jinping at oil and gas agreement event The previous day, the two countries announced a broader energy cooperation framework agreement. Photo from cntv.cn
Click on image for full picture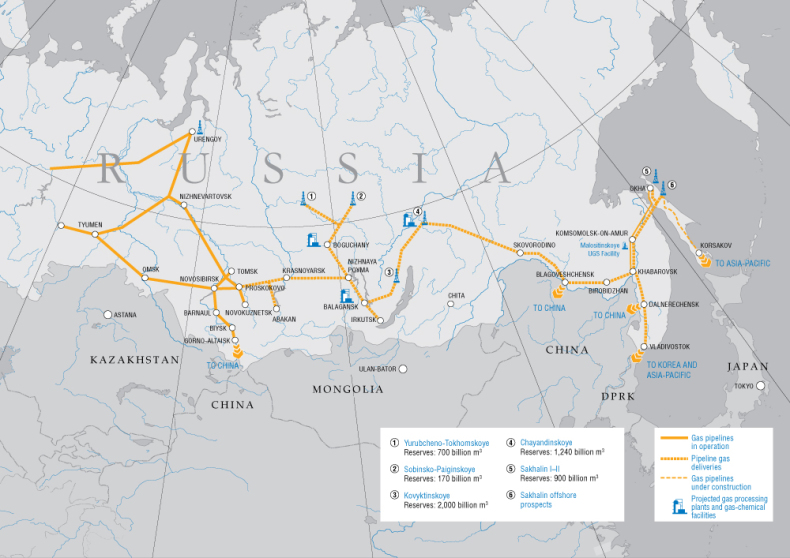 Lots of new pipelines over extensive miles - all concentrated in the east of Russia and headed towards China. Graphic found in www.srbijadanas.net
Secondly, and perhaps not completely unrelated, a prospective EaEU member, Kyrgyzstan has concluded its agreement with the United States in which it provided an airbase at Manas for NATO operations in Afghanistan. While the timetable was agreed on several years ago, its coincidental timing emphasizes Russia's efforts to consolidate its previous allied borders.
The US Manas air force base in Bishkek, Kyrgyzstan ... Photo from defence.pk
From a Washington Post article, we read, "Kyrgyzstan, a mainly Muslim nation of 5.5 million, remains poor and volatile after violent revolts that have deposed two presidents since 2005. It lies on a drug-trafficking route out of Afghanistan and is next door to China, which is boosting its economic ties with resource-rich Central Asia. After his election in 2011, Kyrgyz President Almazbek Atambayev assured Moscow the U.S. air base would be shut.
In December 2012 he ratified a deal leasing the base to Russia for 15 years from January 2017, after Moscow agreed to write off some $500 million of Kyrgyz debts. The agreement can be automatically extended for five years after its expiry. Neighboring Tajikistan also receives Russian economic aid and ratified a deal in October to extend by three decades Moscow's military presence on its land, which may face security threats after NATO troops leave Afghanistan by the end of 2014."
Click on image for full picture
With the Western war effort quickly winding down in Afghanistan, the US is relinquishing its Kyrgystan air base and will accomplish any further resupplying by air from Romania ... It looks like a stretch, but then again, the US seems to have every intention of leaving Afghanistan, as well as leaving the country to an even more uncertain future. Graphic from www.stripes.com