World unrest continues: the death toll in Syria after less than three years is now approximately the same as that of the Iraq war that stretched over eight; the Boko Haram take out another village in Nigeria, Ukraine remains divided, while Egypt simmers. US Secretary of State is in Indonesia, pleading for action on climate change, while garbling a message over the issue. As several articles note regarding his peptalk, "Kerry described those who do not accept that human activity causes global warming as "shoddy scientists" and "extreme ideologues", and said big companies and special interests should not be allowed to "hijack" the climate debate." One thought we were to accept that the science is settled, and what does he mean by using the term hijacking. Is this a new term synonymous with the arguments offered by other side of said debate? (Teatree wonders).
So, where should we look for a bright spot?
How about the
blocao dog festival
in Rio de Janeiro, which is one of several pre-Carnival celebrations. What is it? A chance for dogs to celebrate, or be celebrated. Brazil - what a country of extremes ...
Click image for full picture
Brazil, population 200 million, and this major city with a population alone of 6.5 million - graphic by www.vacationstogo.com
The "blocao" dog festival (11th annual this year) is known to be the most pet-friendly event of the 500 "blocos", events known for their rapturously festive and drinking parties. Only pictures can suffice:
Click image for full picture
Smartly dressed ... photo from www.dailymail.co.uk
Click image for full picture
Friends forever ... photo from www.dailymail.co.uk
Note the hot dog on the daschund ... photo from www.imegin.com.br
Lots of excited looks, beady eyes, big teeth. Photo from http://hausofpaws.blogspot.com
Apparently, this is an inclusive event ... Photo from www.capitalfm.co.ke
Click image for full picture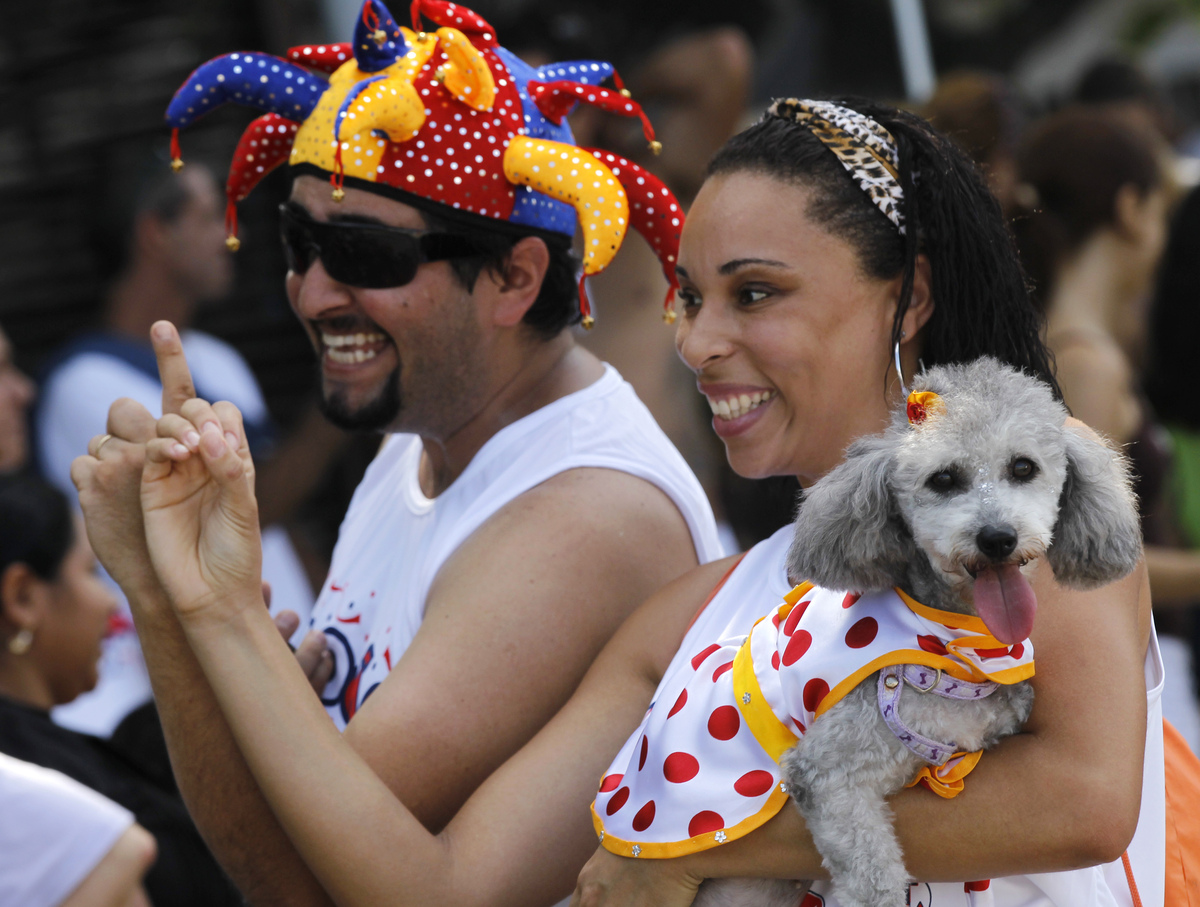 Happy ... AP Photo/Silvia Izquierdo
Not to be outdone - Seattle hosted its 2014
Cupid Undie Run
on February 15. "The Cupid Undie Run is a 1 mile-ish fun run through the Fremont neighborhood of Seattle, WA. Hundreds of participants stripped down to their underwear to raise money for the Children's Tumor Foundation."
Click image for full picture
Only rain - hardly an event breaker in the US Pacific Northwest. Many questions arise: Are there hints here of an upcoming St Patrick's day run, or is this just Seattle green? Are there that many tutu's out there? ... photo by Jousha Lewis / KOMO News (Seattle)
Click image for full picture
Nacho-loving man questions need for sunglasses carried by fellow runner. photo by Jousha Lewis / KOMO News (Seattle)
Click image for full picture
Big marks for the guy to the right who de-haired a heart shape on his chest ... photo by Jousha Lewis / KOMO News (Seattle)
Click image for full picture
Umbrella seems out of place (and does Teatree spot angel wings in the back?)... photo by Jousha Lewis / KOMO News (Seattle)