In the outback of Australia, there is a region where opal mining reigns supreme. The tailings, from afar, look like like white piles of rock, waiting for further processing. The landscape is bleak. A little town has gathered itself there, called Coober Pedy.
Click on image for full picture
More than 90 percent of the world's opal is mined from 70 different fields around Coober Pedy, itself in the center of the vast arid Australian interior. Photo from the Australiantraveler.com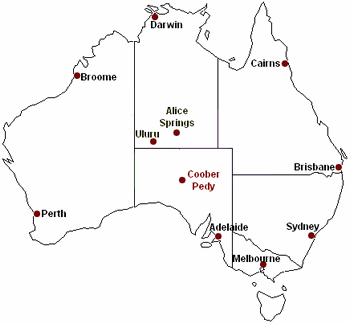 If it helps, Coober Pedy is halfway between Alice Springs and Adelaide, Graphic from www.outback-australia-travel-secrets.com
What makes this town of less than 1700 unique, more than just a hot speck in a harsh land, are the dwellings some locals have constructed. Shades of hobbit tales, many have built houses, B&Bs, hotels, and bars inside the mining shafts, creating dozens of Star Wars-like homes and businesses.
Click on image for full picture
Entries to a home relatively cool and definitely secure after the land has yielded its gems. Photo from www.weekendnotes.com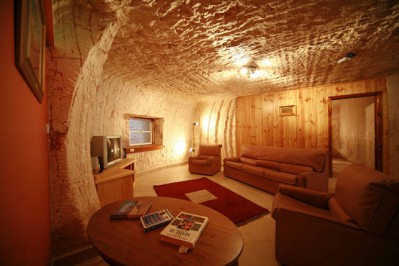 Living room (in a bed and breakfast) ... www.bookdirect2save.com.au
Click on image for full picture
Kitchen ... notice the unique "scarring" from the drills that scrape the opening for opals, Photo from travel.wikinut.com
Red and green ... nice combo. Photo from www.geoscope.info
Click on image for full picture
The signs say, don't run, don't walk backwards ... there are a lot of holes in the ground. Photo from www.omniversum.info
And now, something new coming to town
A story from www.adelaidenow.com in January, 2014, notes that "SOUTH Australia is sitting on oil potentially worth more than $20 trillion, independent reports claim - enough to turn Australia into a self-sufficient fuel producer.
Brisbane company Linc Energy yesterday released two reports, based on drilling and seismic exploration, estimating the amount of oil in the as yet untapped Arckaringa Basin surrounding Coober Pedy ranging from 3.5 billion to 233 billion barrels of oil. At the higher end, this would be "several times bigger than all of the oil in Australia", Linc managing director Peter Bond said. This has the potential to turn Australia from an oil importer to an oil exporter."
An enthusiastic graphic showing how, using the most optimistic numbers of oil volume, Australia could become similar in importance as Saudi Arabia. Graphic found in the www.examiner.com
At the same time this week, the UN's Intergovernmental Panel on Climate Change (IPCC)issued its third major global warming report. From a National Geographic article, "Among the reports' findings:
—Humanity's influence on a warming climate is "clear" and has accelerated since the 1950s largely due to burning oil, coal, and other fossil fuels that release atmosphere-warming greenhouse gases.
—Global warming is already harming agriculture, the environment, and human health in real ways worldwide.
—Greenhouse gas emissions rates have accelerated since 1970, with the steepest increase coming in the past decade. About 80 percent of those emissions are tied to fossil fuel use.
The worst effects of climate change include acidified oceans, higher sea levels, and crop losses."
So, in every country, decisions are ahead. In Coober Pedy, Australia, a future as either an oil importer or exporter looms even as climate change reports continue to sound alarms.
Click on image for full picture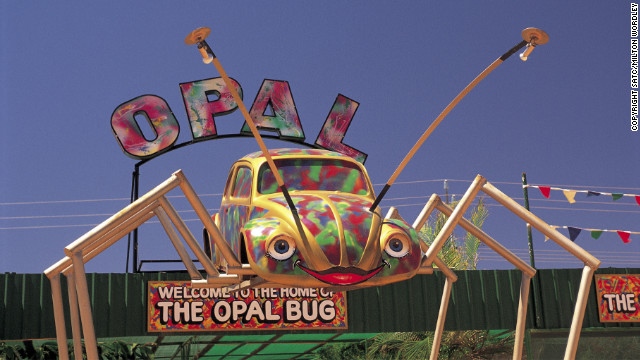 It was opals, now it could be oil ... Photo from www.cnn.com