On December 16, Taliban gunmen from a notorious Pakistan militant group - the Tehrik-e-Taliban Pakistan, or TTP - stormed a military run school, murdering 141 people, including 132 children. The massacre of children sent shock waves through Pakistani society and the whole world.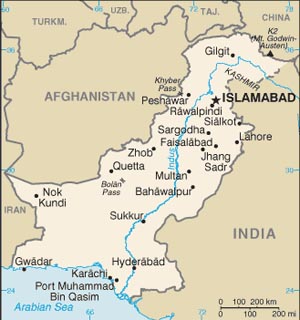 The slaughter occurred in the major northern city of Peshawar, population over 3 million, hosting numerous military camps and strategic forces. Graphic from http://news.antiwar.com
The event was a grim reminder of the Islamic separatist movement in Chechnya, Russia attacked and held over 1000 students and teachers hostage for three days. In that case, over 385 hostages died (156 children) in a flareup of violence that sparked an assault by Russian security forces.
But in the Chechen tragedy, there was violence from all corners, including a major fire that caused the fatalities of over 100 of those killed. In the case of Pakistan, it was cold blooded killing by adults of the school body, ordered to send a message to the Pakistan government and military that attacking the TTP in its tribal strongholds was to attract vengeance. Finally after more than eight hours of intense fighting, security forces secured the school saving 960 pupils and staff.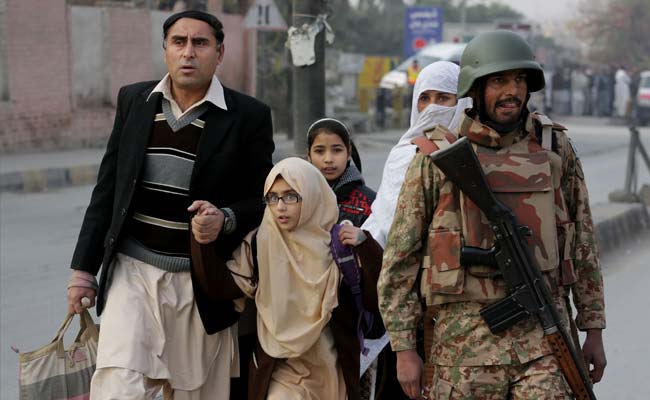 Parents escort their children away from the school ... One Reuters article described the attack thus, "Wounded children taken to nearby hospitals told Reuters most victims died when gunmen, suicide vests strapped to their bodies, entered the compound and opened fire indiscriminately on boys, girls and their teachers." Photo from www.ndtv.com
Pakistan ready to pull together?
There were immediate cries of outrage from all levels of Pakistani leaders - politicians, military - and even some major Pakistani-based Islamic militant groups such as the The Afghan Taliban (who fight in Afghanistan but leave Pakistan alone). Pakistan's Prime Minister, Nawaz Sharif, told reporters in Peshawar "This is a decisive moment in the fight against terrorism. The people of Pakistan should unite in this fight. Our resolve will not be weakened by these attacks."
But the bloodshed is a reminder of the long and deadly game the Pakistan military and the country's intelligence agency (ISI) have played. There are several Sunni militant groups operating in Pakistan with the tolerance of the Pakistan military and ISI which created a militia network over thirty years ago to fight the Soviet invasion of Afghanistan and to dominate Afghanistan itself. Besides the Afghan Taliban already mentioned, another major Islamic group, the Lashkar-e-Taiba, operates freely in the nation, even though it is officially outlawed, because it focuses on fighting India. This group in 2008 assaulted the Indian city of Mumbai over four days and killed over 170 people. As one article from Bloomberg News notes, "One of its founders, Hafiz Saeed, lives openly in Lahore and has been a frequent user of social media."
Hafiz Aseed, founder of the outlawed militant group Lashkar-e-Taiba, lives openly in Lahore. This group is tolerated as it rages against Pakistan's neighbor India. Photo from www.dailymail.co.uk
Moreover, besides the extremists themselves, the stream of trouble runs much deeper. Extremist mosques remain open and thrive in major cities, while a large network of Islamic madrassas (religious schools) indoctrinate young Pakistanis by the tens of thousands.
Islamic fundamentalist schools at work. Photo from www.quazoo.com
For now the Pakistan military has flailed angrily into some tribal strongholds killing scores of extremist fighters in the past few days. More chillingly, the government lifted a moratorium on the death penalty for convicted terrorists and just two days after the school attack, hung two who were on death row. As a BBC article reported, "The home minister for Punjab province, Shuja Khanzada, told Associated Press: "Today's executions of terrorists will boost the morale of the nation, and we are planning to hang more terrorists next week." Indeed, four more were hung within a week of the attack, and the government boasts that up to 500 terrorists in its custody could be executed in the coming weeks.
Anger at terrorists is opening up the likelihood of repeated executions. Photo from www.thenews.com.pk
So it looks like a lot of angry reaction - military operations and hangings. But a serious attempt to change the uneven treatment of militant factions, shut down the incendiary rhetoric even today at some of Pakistan's mosques, and disband the widespread indoctrination labeled as teaching at fundamental Islamic schools (ie. work at building a civil society) has yet to surface.
Sigh.
And so, even as Christmas is celebrated by Christians around the world, there seems even less peace than ever before. Once again, Teatree posts a song that speaks of faith and hope, written by Henry Wadsworth Longfellow in the dark days of the civil war in America 149 years ago. One must admit that the powerful lyrics seem to speak with an even lonelier voice than in the past.
I heard the bells on Christmas Day
Their old, familiar carols play,
and wild and sweet
The words repeat
Of peace on earth, good-will to men!
And thought how, as the day had come,
The belfries of all Christendom
Had rolled along
The unbroken song
Of peace on earth, good-will to men!
Till ringing, singing on its way,
The world revolved from night to day,
A voice, a chime,
A chant sublime
Of peace on earth, good-will to men!
Then from each black, accursed mouth
The cannon thundered in the South,
And with the sound
The carols drowned
Of peace on earth, good-will to men!
It was as if an earthquake rent
The hearth-stones of a continent,
And made forlorn
The households born
Of peace on earth, good-will to men!
And in despair I bowed my head;
"There is no peace on earth," I said;
"For hate is strong,
And mocks the song
Of peace on earth, good-will to men!"
Then pealed the bells more loud and deep:
"God is not dead, nor doth He sleep;
The Wrong shall fail,
The Right prevail,
With peace on earth, good-will to men."
.