A rather vague theme this time, but I think I'm trying to recognize individuals, who in turn represent the human face of larger forces and events. Hang in there.
A teacher trainee stands up
In Germany
, from a report by the German news agency, Deutche Welle, "Tugce Albayrak, a German citizen of Turkish origin, was the victim of a violent attack earlier this month. Reports indicate the student from Gelnhausen intervened on behalf of two girls who were being harassed by three males near the restroom area of a McDonald's restaurant. Thereafter, and in circumstances that have yet to be clarified, the scene shifted to the fast food restaurant's car park, where an 18-year-old male punched her, causing her to fall and hit her head on a stone."
Since that incident (and after this rather dry reccounting), her decision to step in has created a frenzy of attention, right up to the German President, Joachim Gauck, being called upon to posthumously award her the Federal Order of Merit. In gathering a bit of her background, Ms Albayrak, 23, and a teacher trainee, we find the longer story.
Tugce Albayrak, a second generation German citizen, from an immigrant Turkish family. Photo from hellogiggles.com
From an article by the UK Guardian, "The Albayrak family arrived in Germany in the late 1970s – following the route of many a Turkish Gastarbeiter, or guest worker, before them – from an Anatolian village called Bahadin, and settling in the western state of Hesse.
"Tugce's grandfather had been working at the Opel carplant in Russelsheim for several years ... his wife joined him and decided to bring the five children over," At the start, life was hard. "It was us, the Turks, and them, the Germans," she said. "Integration did not exist" said one of the original five children. By and by, all five children gave birth. There were to be a succession of nine boys before Tugce came along in 1991. "She was our first princess," says Uncle Yasni. "We treasured her all the more for that."
Tugce's parents – her father works at a car plastics production plant and her mother as a clinical assistant – were seen as particularly exemplary amongst the Turkish diaspora for the way they encouraged their children's education – something they had no access to themselves. Tugce was in her second year at university, training to be a secondary school teacher of German and ethics. "She was a very good student and an extremely popular person," a university spokeswoman said."
A bright light in what is mainly a more somber story of Germany's Turkish workers not integrating well, and not being well received over the past several decades.
Indian girls fight back
In India
, where there exists a common sentiment of disdain for women, two young sisters resisted the verbal and physical abuse of three young men on a public bus.
From www.huffingtonpost.co.uk, "footage of two Indian sisters has emerged showing them beating three men with belts who allegedly tried to molest them on a bus. The men are reported to have blown kisses and passed notes before subjecting them to lewd comments.
The sisters, Aarti and Pooja, were then reportedly thrown off the vehicle as it was still moving and further assaulted. No one came to their aid throughout the incident and a fellow passenger apparently said: "Leave these boys or they will rape you or pour acid. They will kill you and no one even get your bodies."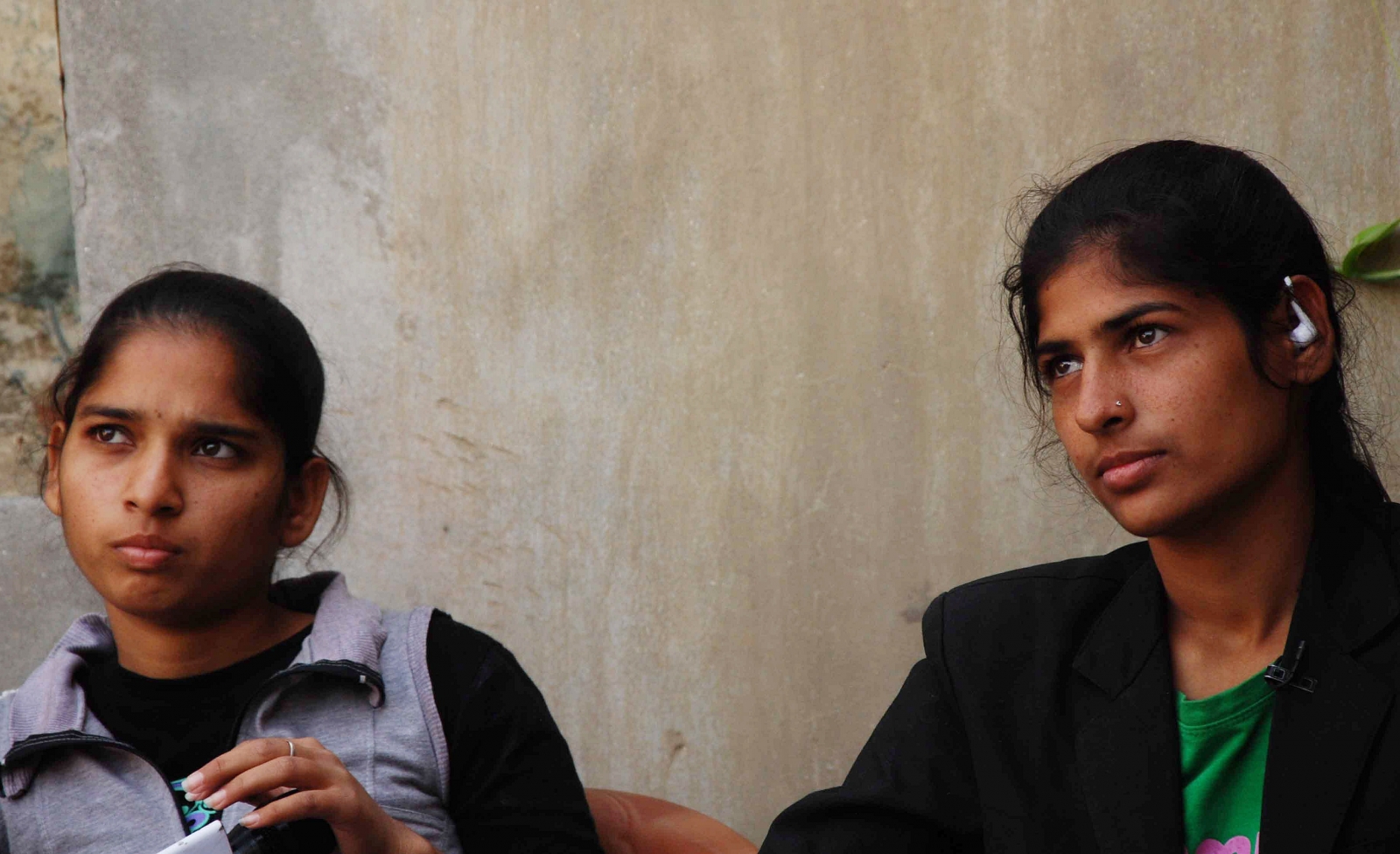 The two sisters, Aarti and Pooja Kumar, 22 and 19, after being discouraged by police from pursuing their case, have suddenly become social media heroines. Photo from http://www.ibtimes.co.uk
Unfortunately, the article continues, ""Passengers in the bus stopped us from calling the police. We were thrown out of moving bus & then conductor told us to file police complaint, but by that time they had all escaped." Police have said the matter is under investigation but have drawn criticism for their slow response. The girl's father, Rajesh Kumar, said officials were even trying to pressurise them not to pursue the matter."
Since the event has become internationally known, we learn (from the ib times in the UK) "The three alleged assailants have been arrested and remanded in custody for 14 days but residents in their village of Kandla have mounted a protest demanding their immediate release. ...Meanwhile, the bus driver has also been suspended for failing to take action during the fight."
A young American boy offers free hugs
In the US
, tensions from the riots in Ferguson, Missouri, following a grand jury decision to not indict a white police officer who shot and killed a black teen in an altercation, broke across the nation with street protests. In Portland, Oregon, a 12 year old boy offered free hugs as an alternative to angry actions.
From an article in the UK Daily Mail, a 12-year-old black boy, Devonte Hart, with tears in his eyes, embraced a white police officer, Portland Police Sgt. Bret Barnum (Photo from article)
Kenyan laborers pay dearly
In Kenya
, repeating a bus massacre from just 10 days earlier, over 30 Kenyan quarry workers near the northeast city of Mandera where rounded up by al-Shabab extremists, asked what their religion was, and those not Muslim were executed.
Victims being removed from scene of the attack. There were no heroics here, just innocent workers caught up in a vicious war where militants perpetrate incidents and the security forces apparently not up to the task. Photo from www.independent.co.uk
The incident like most of the above has quickly mushroomed into a larger event. From the UK Independent, "Kenya's President, Uhuru Kenyatta, has scrambled to restore confidence in his leadership with a security reshuffle after Islamist gunmen shot and beheaded 36 labourers at a quarry in north-eastern Kenya in the second such massacre in less than a fortnight.
Amid growing criticism over his failure to tackle the security threat, Mr Kenyatta fired his Interior Minister, replacing him with the opposition figure and retired army General Joseph Ole Nkaissery, and accepted the resignation of the national police chief David Kimaiyo. ...
The attacks have highlighted the Kenyan government's failure to provide security in vulnerable and remote border areas, where decades of underinvestment in public security have left the police thinly spread, and militants are able to move easily across the porous border from war-torn Somalia, either by paying off underpaid police officers or by avoiding the scarce patrols."
PS. Kenyan President Kenyatta, of course, is himself in danger of being tried by the International Criminal Court in the Hague for his role in inflaming ethnic violence after the country's 2007 presidential election.
Teatree can think of many others who could have been noted here .. a list of individuals caught up in larger struggles, some emerging as momentary heroes, while others dying.