The region that contains Bangladesh, Nepal, and the western portion of Myanmar does not pretend to be influential in today's world. But news from these countries has filtered out this past week and is worth noting.
Nepal is a mountainous country where the Himalaya mountains have formed from the Indian tectonic plate pushing into the Eurasian plate. Bangladesh is nearly all a low level delta from rivers running from the Himalayas to the ocean. The Western region of Myanmar is non-descript, mainly low level hills. Graphic from rochester.edu
Nepal
suffered a major earthquake and a set of aftershocks, killing nearly 8000 of its citizens. With steep terrain, and limited infrastructure, it is a stiff blow to the country's prospects in the near term.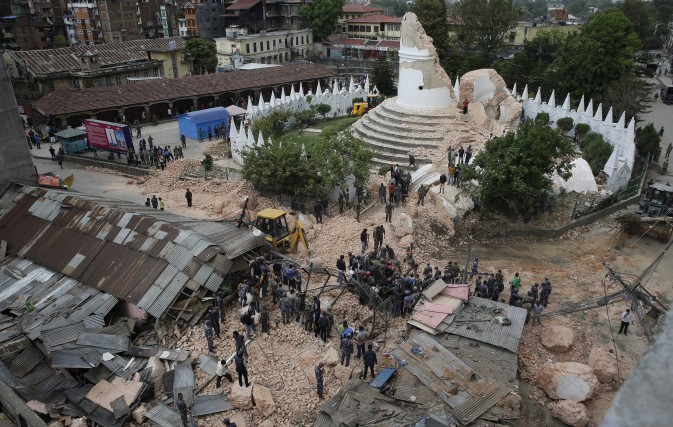 While a disaster, it may be one that nonetheless pulls its citizens together. Soldiers, citizens, and the government are all working with the same goal of recovering from this major setback. Photo from www.travelweek.ca
The Rohingya of Myanmar
are a Muslim minority in an otherwise Buddhist Myanmar. This ethnic group has little power, faces an indifferent, if not hostile government, and neighbors thus are allowed to act aggressively toward these people. The Rohingya number nearly 1 million, are mainly agrarian, have their own language, and isolated by modern borders from other Muslim populations, namely Bangladesh.
In an
article
two years ago from the Christian Science Monitor, we read that some Buddhists in Bangladesh are leaving that country and being resettled in Rohingya land. Another element of harassment and oppression of the Rohingya. The Myanmar government and Buddhist leaders contend that the Rohingya are relatively new to the region and have no long-standing claim on the land. The long running strife is messy, violent, and oppressive with diminished opportunities for education and growth within the Rohingya community. While primarily a reflection of mismatched borders and intertwined populations with Bangladesh, the issue as found elsewhere is how minority populations are protected by law and treated equally. When Myanmar and Bangladesh both struggle with poverty and a mixed record of governance, the festering continues.
Border guards in Bangladesh refuse entry to Rohingya refugees from Myanmar in November 2012. Teatree was moved and sobered by the pain on this man's face, frustrated no doubt in his attempts to find refuge for his family. Photo from ipsnews.ndet
In the past few days, both impoverished Bangladeshi and Rohingya have taken to the seas looking for refuge. Malaysia and other destination countries are not keen to take them in, and so another cauldron of suffering and displacement simmers.
The enclave of Rohingya's is shown outlined in red. One can imagine a long and perilous voyage by sea along the hostile coast of Myanmar, with the hope that Malaysia, a fellow Muslim country, might take them in. In the past weeks, Thailand, long a first stop for refugees, cracked down on the activity, forcing other boat people to travel further southeast to Malaysia or Indonesia. They have not been welcomed in either country. An article from Australia's Broadcasting Company (ABC) has further details.
And then perhaps most ominously, there is recent violence in
Bangladesh
with a specific theme. Three bloggers expressing criticism of aspects of Islam have been killed since the first of the year. A CNN article reports on the latest, "Ananta Bijoy Das, 32, was killed Tuesday morning as he left his home on his way to work at a bank, police in the northeastern Bangladeshi city of Sylhet said.
Four masked men attacked him, hacking him to death with cleavers and machetes, said Sylhet Metropolitan Police Commissioner Kamrul Ahsan. The men then ran away. Because of the time of the morning when the attack happened, there were few witnesses. But police say they are following up on interviewing the few people who saw the incident.
"It's one after another after another," said Imran Sarker, who heads the Blogger and Online Activists Network in Bangladesh. "It's the same scenario again and again. It's very troubling."
Das' death was at least the third this year of someone who'd posted pieces online critical of Islam. In each case, the attacks were carried out publicly on city streets. In March, Washiqur Rahman, 27, was hacked to death by two men with knives and meat cleavers just outside his house as he headed to work at a travel agency in the capital, Dhaka.
In February, a Bangladesh-born American blogger, Avijit Roy, was similarly killed with machetes and knives as he walked back from a book fair in Dhaka.
The three victims are hardly the only ones who have paid a steep price for their views. In the last two years, several bloggers have died, either murdered or under mysterious circumstances. In 2014, Reporters Without Borders reported that a group calling itself Defenders of Islam in Bangladesh had published a "hit list" of writers it saw as opposing Islam. "They listed 84 bloggers, mostly secularists. They listed 84 of them," said blogger Asif Mohiuddin, whose name was on the list. "Nine of them are already killed and many of the [others] were attacked."
The killings highlight the ignorance and intolerance sheltered within Islam's followers, not just the jihadists, and the question again becomes, what are "normal" Muslims to do.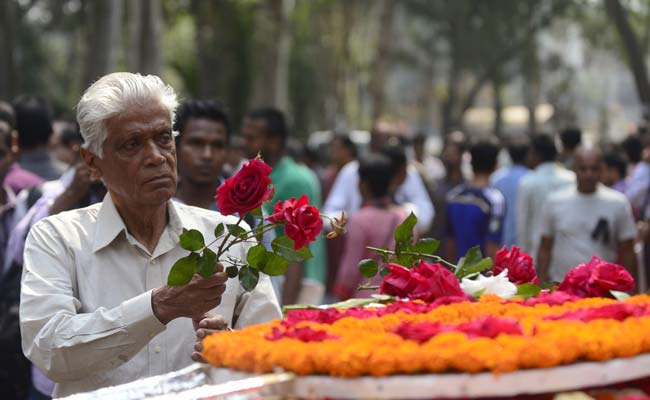 There are no doubt many Muslims who deplore the killings of these activists, and take a step of resistance by, in this case, publicly mourning one of the victims. Photo from Agence France-Presse
But the young, righteous, and violent Islamists are unrepentent. And the future for tolerance in yet another Muslim country is now shaken.