Turkey continues to present a mosaic of contradictory policies and positions to the world as its June 7 parliamentary elections near. The elections will decide the makeup of the 550 members of the Grand National Assembly, and the elected members will form the 25th Parliament of Turkey.
Turkey has a population of nearly 75 million people, compared to Egypt's 82 million and Germany's 80 million. The country sits strategically between Europe and the Arab world, and it has a turbulent history with its neighbors. Graphic from thesmokingnun.wordpress.com
From wikipedia, we read, "The governing Justice and Development Party (AKP) will seek a fourth consecutive term in government. Its leader, Ahmet Davutoğlu, will seek a full term as Prime Minister of Turkey in his own right, having taken over from
Recep Tayyip Erdoğan
in August 2014. The AKP's goal is likely to be to win more than 330 seats in order to have the right to put constitutional changes to a referendum, or more ideally 367 seats to bypass a referendum and change the constitution directly within parliament."
Turkey's President Recep Tayyip Erdoğan, campaigning for his AKP party which is expected to gain a majority of seats in the June 7th election. Such a majority in turn would allow him to adjust the country's constitution to reflect his own vision of the nation and Turkey's leadership in the region. Photo from The Economist with the article here.
So what direction is Erdogan, with his party, wanting to take Turkey?
As a recent BBC article (found
here
) put it, "Under the 12-year rule of the Islamist-rooted AK Party, constitutionally-secular Turkey has fundamentally changed. There is now a push to raise a "pious generation"
The article continues, "The government has constantly stressed its vision of stay-at-home mothers, urging three children per family. Last year, the deputy prime minister told women not to laugh in public; the president recently insisted that men and women were "not made equal".
And from the Economist article noted above, "seen against the background of his recent behaviour, Mr Erdogan's plans for a strong presidency are troubling. He has dismantled checks on his power. His approach is majoritarian and divisive: so long as his party wins elections, it can trample any critics. Critical newspaper groups have been subjected to capricious tax fines. Columnists have been fired. Turkey had more journalists in jail than any other country until the middle of last year, when a clutch of 40 were let out. Reporters Without Borders, a Paris-based group, ranks it 149th of 180 countries for press freedom, above Russia but below Venezuela.
The authorities have often tried to close off access to critical websites and social media. In the second half of 2014, Turkey filed 477 requests to Twitter to remove content, five times more than any other country. And since Mr Erdogan became president, 105 people have been indicted for insulting the head of state.
Attacks on the media and a harsh crackdown on the protests in Gezi Park in Istanbul two years ago deepened a rift with the supporters of Fethullah Gulen, a Muslim preacher. The Gulenists, formerly Mr Erdogan's allies against the army and the secular establishment, have now become enemies. The battle with them intensified after tape recordings of AK officials taking bribes were leaked. Mr Erdogan promptly reassigned hundreds of policemen, prosecutors and judges who were looking into cases of alleged graft."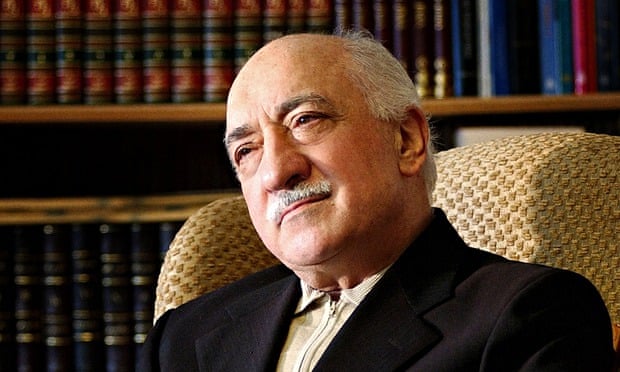 President Erdogan has raised the debate with Fethullah Gulen, a former imam, who is self-exiled in the U.S. Gulen, who has millions of Turkey supporters, "teaches an Anatolian version of Islam, deriving from Sunni Muslim scholar Said Nursî's teachings. Gülen has stated that he believes in science, interfaith dialogue among the People of the Book, and multi-party democracy. He has initiated such dialogue with the Vatican and some Jewish organizations" according to Wikipedia. Photo from The Guardian
Gülen is actively involved in the societal debate concerning the future of the Turkish state, and Islam in the modern world. He has been described in the English-language media as an imam "who promotes a tolerant Islam which emphasises altruism, hard work and education"
Turkey's contradictions and tensions abound.
Even as Erdogan states clearly where his citizens should head, there is increasing discord by a variety of minorities within Turkey itself. Izmir, Turkey's third largest city and on its westernmost coast, is home to the opposition CHP party, which is the party of modern Turkey's founding father, Kemal Ataturk. The party is adamantly secular, strongly pro-women's rights, and nervous about the AKP's push to Islamicize the population. It made recent news by holding women bicycle rallies to offer a different vision for women rather than accepting a subservient Islamic role.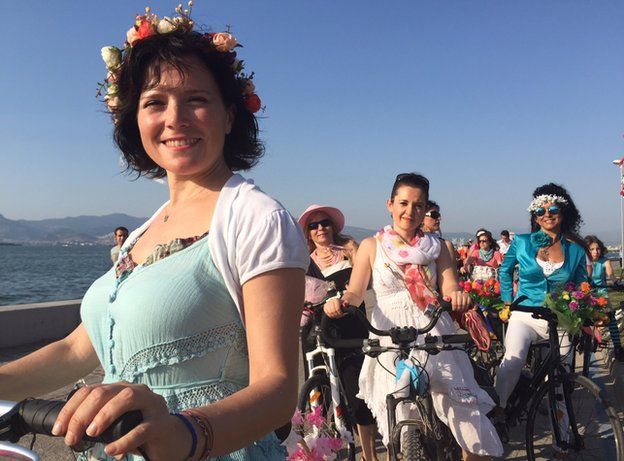 Izmir women on bicyles - a threat to Erdogan's pious generation? Photo from the BBC
Not to be outdone, President Erdogan also rode a bicycle with a few of his friends and bodyguards during a recent 51st Presidential tour. Photo from http://www.demotix.com
At that same time, it is unclear as to how Erdogan's party will interact with its restive Kurdish population in the east of the country. Most readers will remember the outrage in Turkey over Erdogan's passiveness as Kurds in Kobane were under siege by ISIS. His inaction over Kobane undermined his bright spot over the past decade in attempting to better integrate Turkish Kurds into the country as a whole. The still potent separatist Kurdish PKK remains firmly secular with both men and women serving equally in its ranks, and is unlikely to line up behind Erdogan's piety.
Regarding Turkey's neighbors in an increasingly broken region of the world, Erdogan continues to confound his allies and potential partners.
Erdogan has become hostile towards Israel, a recent ally, while savagely opposing Syria's Assad. Yet while Turkey spends 2.4 % of its gross national product - about $18 billion - on its military, a number that puts it among the countries that spend the most on their militaries (and shames most European countries who have let themselves grow woefully weak in their ability to meaningfully confront Russia's aggressiveness in Ukraine and the Baltic nations), the country is aloof in participating in a Sunni-led alliance against the Syrian leader.
The Turkey-Syria Akcakale border in southern Sanliurfa province. One of many flashpoints that face Turkey as the Syrian civil war lumbers tragically towards a somber conclusion. Photo from Australian Broadcasting Company
Erdogan was borderline hysterical with indignation at the recent movement - from the UN to western media - to accept the definition of genocide by Turkey 100 years ago towards Armenians, leaving many would-be allies unsure of the nation's ability to confront its own history.
Time will tell through the rest of 2015 where Turkey heads, there are the elections in just less than a week, a possible end game in Syria between Hezbollah and Assad vs ISIS and other rebel groups, a restive Kurd population with new discomforts with Erdogan and a long affinity with the Kurds of Iraq. Whither Erdogan's hope for his pious generation.